March 11th 2013
Long time no update! That's because I'm using FA, Weasyl, and DeviantART, and Tumblr most of the time.

I am currently open for commissions, if you would like one - please review my commissions guidelines and prices linked in the side bar, and drop me a line!
April 6th 2012
- Commissions are still closed at this time.
- I've got a new blog for commission update posts.
- I will be using parts of said blog when it comes to accessing the mature work.
- I have a new open/hold/closed commission status icon. Be sure to reference it in the future if you're interested in commissioning me.

The past year has held some new challenges. Primarily the fact I am now officially power of attorney for a family member suffering from kidney failure. They were officially diagnosed April of last year, 2011. A lot of things have had to change, and may yet change.
At the moment things are stable, and looking decent - though I have no idea when things will begin to improve. We try to remain optimistic.

Commissions will come and go as they have, but right now I'm still in the middle of making sure the place is ready for a potential move at any time. Almost finished with that, so my last few commissions will have my full attention soon. My customers are extremely patient with me and I am very appreciative of this. It helps I've made sure I've not gone over my personal timeframe on getting things done - but I do like to get things done sooner than later.

New email as well. Please access the contact area of the site to see it.
1.) Please do not repost, alter, or hotlink to the images on this site.
2.) Buyers! Please keep yourself familiarized with my commissions guidelines.
3.) Thank you for visiting!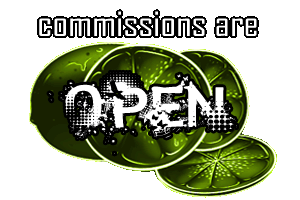 Tart and Fruity © 4/2012